"Can I come over tonight?
I say we will have a real cool time tonight"
Stooges
Life sometimes moves too fast for my writing skills to capture. I'll shorten the recap of my London trip drastically now to keep up.
On the first night in London I've been to 93 Feet East which is a really cool and fair priced venue and it even has a nice patio so you don't have to go outside on the street to smoke. Some friends of mine, the marvellous Pirate Soundsystem, were djing and Eskibeat, Ruff Sqwad, Wiley and Tinchy Stryder were on in the other room. And Peaches Geldof, the daughter of Bob, who seems to be and who looks like an english version of Paris Hilton was djing too. Or what she calls 'djing'.
All the grime people were fun to watch. Great beats, lots of good MCs, good atmosphere, I liked it a lot. I think in some moments there were 20 of them on stage. What struck me is that it's a far more male dominated scene than I had expected it to be. Of course I was aware that there are hardly any active grime ladies but to me the quirkiness of grime beats and the fun undertone of some of the samples or synths and the british rapping somehow got me perceiving it as a less hierarchic and testosterone-laden kind of music than for example parts of US hiphop are. Seeing those guys fo' real, lots of them dressed up in suits, somehow reminded me of the mutation of the Northern Soul scene that you get here in Germany. Scenes in which things like honor and credibility still seem to have meaning in a somehow obsolete way that makes me smile.
The Pirates' set was very cool too – lots of bounce music (my fellow Nurotic Soundsystem DJ Tobi says that music is called 'bassline' but how boring a name for such a fun uptempo cut up swirly kind of music is that? Nerd talk, I know. Sorry. Sinden, Switch or some Buraka Som Sistema are musical examples. Lovely stuff.). It was nice to finally hear them doing their thing live and they function so well together that it's a pleasure to watch. Just like – what a transition, uh?! – Nuremberg's finest: Johannes and Jool of Elektronisch Rocken. Time for a commercial break:
Tonight! At the K4! Elektronisch Superrocken! Come on!
I have the pleasure to dj at a party with a brillant line up:
Elektronisch Rocken
Nurotic Soundsystem
and their wonderful electronic live guests:
Näd Mika, Washer and Zimmer!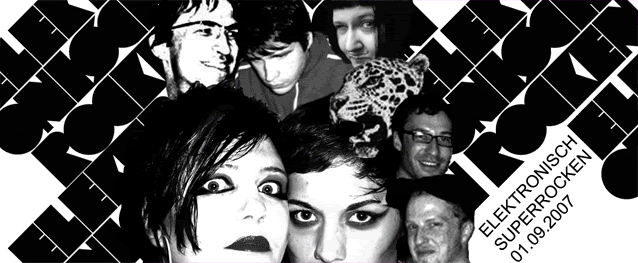 Back to London: on Saturday the GYBO boat party was on and I finally met all those g33ks I've only known from the internet so far. I wasn't disappointed. On the contrary. It was the nicest bunch of people I've met in quite a while. It's amazing that people from such different backgrounds get along so fine without a real 'scene' thing that glues them together. Here's to some people and stories that got stuck on my mind: Colin 'Electric Cowboy' who has some great new electrobollocksmixes on his site and Tim Bearcup who does a nice podcast, Radio Clash, both of whom welcomed me with a little queer chitchat; Robb who did me the great favor and got me one of those limited colored vinyl 7″s of Crystal Castles; Colin 'Ctel' who is father of a very ill little kid and whose blog really gets me into a lack of words to express how much respect I've got for him and his wife for how they handle their situation, Grant McSleazy, Mike Cartel, Hearingdouble, BushNo10, Miss Frenchie, ach, damnit… it's no use dropping all those names. It was great to meet you all. Some really cool sets were played, especially later that night and I drank too much and had eaten nothing but some Dorritos all day as the BBQ was non-veggie, and the fresh tattoo started aching a bit and I was plain exhausted so from a certain point on I was unable to do anything but get a painted moustache from Julie, sit down and listen to the djs and watch the dancers. At the end we hurried to catch the last Dockland Railway train and bus and the walk to Julie's place seemed endless. I slept pretty well that night but woke up with a head that felt three times as big as usual. Caught a cold from all that standing on deck to smoke in the rain and wind that blew over the Thames so I stayed in and read Murakami's 'Sputnik Sweetheart' which is good. One of the topics it deals with is isolation and it made me remember my favorite Buechner quote. I think it was from 'Danton's Death' and goes something like "knowing each other? we'd have to break open our skullcap and drag each other's thoughts out of the brains".