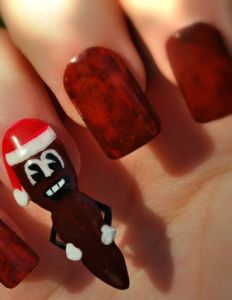 "We are Undercover Colors and we are the first fashion company empowering women to prevent sexual assault."
Undercover colors
 is a product that a team of four young men wants to throw on the market: Nail polish that changes its colour after contact with date rape drugs like Rohypnol or Xanax. The idea is that you stir your drink "discreetly" with your finger to test it. And of course on first look it sounds nice: You don't need to spoil your date by showing distrust, like when you pull out a testing strip in front of his eyes. I love the CSI mobile chemistry lab science gadget part of the idea. They are good in marketing. They have learned from similar products' promo mistakes. They use the right words:
"Choice", "discretion", "empower", "shift the fear from the victims to the perpetrators".
"Some people think little girls should be seen and not heard but I say oh bondage, up yours!"
I guess you already feel the huge BUT coming up: While this nail polish sure might be handy, this doesn't shift the fear. It's just one more way to keep the problem restricted to women. I'm tired of things women should do discreetly. We are to bleed discreetly, we are to shave discreetly, we are to keep our anger about sexism discreetly, oh, we are so well trained to not spoil men's fun with our problems (see that "our" melting from acidic sarcasm? Not nice, I know. But, hey, I empower you to save it by simply not treating human's problems like women's problems). How they market it, this nail polish is just one more way to keep our fear secret. Thank you, men, for giving us a "choice" to find out or not if some guy might rape us. Discreetly. Thank you for "empowering" us with nail polish. I think the marketing here is worse than the product. It plays with feminist language, takes it out of its context and twists it into, well, I guess Poly Styrene would say: into bondage.
If i was to come up with a fashionable date rape drug testing tool, it would be something clearly visible, something flashy, it would be the new cool to stir your drink with it. In fact every edgy club and every cozy pub would serve all drinks with it, no matter to what gender it's served. It would be a glow-in-the-dark stick, sonic screwdriver-style, that goes off blinking and buzzing madly when it senses date rape drugs, shooting glitter cascades so that everyone around notices it. And it would automatically pour a permanently sticky neon glow-in-the-dark colour in your drink – (you know, like that stuff that cops in tv crime shows use to mark ransom money) – so you could pour it all over the person who put that crap in your drink and even if he ran away it would be visible to everybody. And the colour would itch like hell. That would be nice. And empowering. I clearly should have become a scientist designer person.