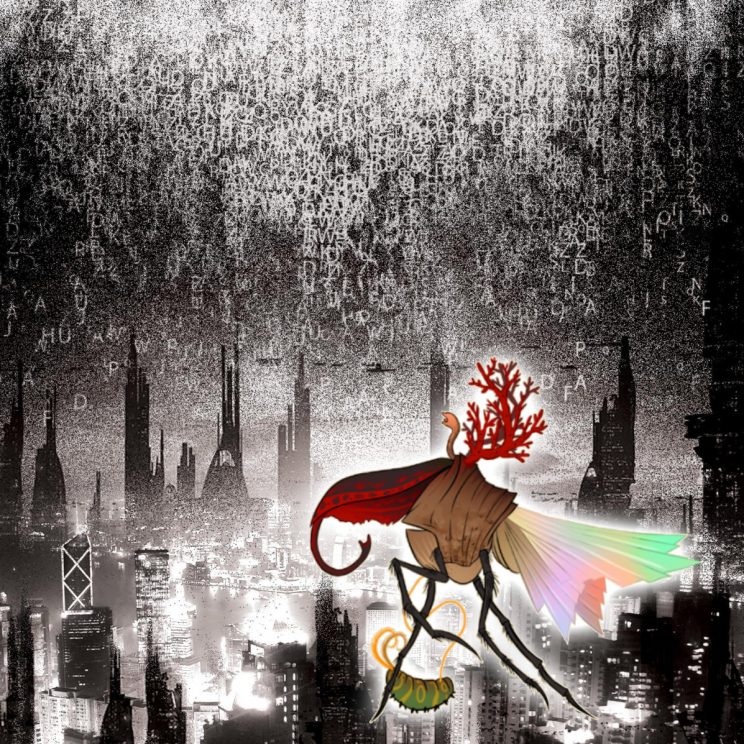 What a book! A book about language, understanding, about individuals and collectives, about colonialisation, how hierarchies rise and fall, about a living city. It took me a bit to get into Embassytown by China Mieville but then I didn't want it to end.
By exploring how an alien language could be different from ours, China Mieville makes our language become alien, makes it become one possibility in many. But it's not just how Mieville plays with ideas of language that make this world you get to explore so weird. It is also the insectoid aliens, the Ariekei, und their "biorigged" technology: a mix of biology and technology that produces buildings that are alive in a way. And human's culture has changed too, for example there are new concepts of family.
Embassytown is a city on the planet Ariekei that is right on the edge of the third iteration of the "Manchmal" (Mievielle uses quite a few german words, this one meaning "sometimes"), the edge of an explored universe. The book's world is based on a cyclic universe model in which there's an "Immer" (german word for "always") – my understanding: it's where all the different cyclical universes overlap, like all dimensions at once. Only some people can travel through this Immer and Avice Benner Cho, the main protagonist, is one of them. The novel starts with her returning home with her fourth husband, Scile, who is a linguist who wants to explore the Ariekei's "Language".
Humans have colonized Ariekei and coexist with the "Hosts", the indigenous species, the Ariekei. The shortest description of them is "insect-horse-coral-fan things" and it's wonderful how Mievielle breathes life into them and into that whole world. He does so by describing some things in great details, other he only suggests, and he also work with a lot of neologisms that give you a vague idea of what it could be. With this he manages to create a world that you can't but slowly explore and grow to understand. And while you are in that process of fitting pieces together to paint your picture of this world it changes with the unfolding plot.
The Hosts, the Ariekei, have two mouths that speak from one mind. They don't recognize it as language when a single human is speaking to them. They also don't understand artificially generated language, so the communication problem can't be solved technologically. The humans have found a way though: They have genetically-engineered identical twins known as "Ambassadors": They are conditioned to think and speak as one and they function as translators. But then techies do as techies do: They send a new kind of Ambassador that uses a technical shortcut and all hell breaks loose. The Ariekei get addicted to his weird version of their Language and what follows is a weird futuristic play on the role of mind-altering drugs in colonialisation. A version in which even the bio-technically engineered buildings of Embassytown show signs of addiction and grow ears to hear more of the new Ambassador's words. The situation soon slips into a full civil war and it is Avice Brenner Cho who starts to learn that she might be the only one to even have a possibility of stopping what soon turns into a full collapse and mass slaughter. The city's bio-tech, being linked to the Ariekei, starts collapsing into chaos when the Ariekei's Language-drug-distorted minds slipping into chaos.
The universal translators don't work for the Ariekei's "Language." It is a strictly literal one, a pre-De-Saussure one, if you like: Ariekei can only speak what is empirically there. They can't speak and think abstractions, lies, future. The signifier *is* the signified. To expand their Language to the use of similes they have to enact what they want to talk about. Avice Brenner Cho – it sure is no accident that the acronym of her name is ABC – is one such simile: "The girl who was hurt in the darkness and ate what was given to her." At one point, near the end, in her desperate efforts to stop the war, she exclaims to the Ariekei: "I don't want to be a simile anymore, I want to be a metaphor." She, a character that kind of stands for living evolving language, gets on a mission to get radically different beings to overcome their barriers of language, physical differences and culture and start communicating with each other again, which afford embracing change. A quest to make both, humans and Ariekei, learn to understand each other's radical differences and maybe coexist.
It sure is a good book to read in a time in which Social Media has fractured societies by showing people who were used to think the whole world shares their perspective on things that even in their closest neighbourhoods exist people with radically different lives and ideas. Those who call it the "end of facts" overlook that facts never have been much more than compromises and approximations in our efforts to make sense of the world. Mieville starts out early in the book to show some of our most basic compromises in their arbitrariness in how he lets Avice explain how the concept of time and family have changed. the 24 hour day doesn't make much sense when the wole of humanity is scattered throughout the universe, so they now count time in kilohours. There are a lot of varieties of families, Avice grew up in a shift-and-nursery family with a lot of shiftsiblings and shiftparents but not with her "bloodparents".
Mieville tries to get to limits of language, to the edge of what it can explain. I love how he shows that lies – and fiction is but lies, as in "counterparts of facts" – can help understand where facts are barriers. Embassytowns tells a story of how lies can bring us closer to truths.
As a sidenote: It also has made me especially sensitive for the use of language barriers in Vikings (which really is a much better tv show than I had expected).
Well, I already know that I will read this novel a second time to fully savour it. For once, it's one I'd even love to have a reading group for.